Debbie Bookstaber, President of Element Associates, will be speaking at the upcoming Affiliate Summit East 2013 conference taking place August 18-20th at the Pennsylvania Convention Center in Philadelphia, PA.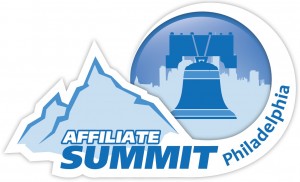 Affiliate Summit, the premier affiliate marketing industry conference, was founded by Missy Ward and Shawn Collins in 2003 for the purpose of providing educational sessions on the latest industry issues and fostering a productive networking environment for affiliate marketers
"We're excited to have Debbie Bookstaber on the speaker faculty for two high profile sessions. Her expertise in social media, affiliate marketing, blogging and PR will be extremely valuable to the attendees," commented Shawn Collins, Co-Founder of the Affiliate Summit conference and trade show.
"With Affiliate Summit taking place in Philadelphia for the first time in the ten year history of the event, it's wonderful timing to be working with Debbie and her team on launching monthly Affiliate Summit Meetups for digital marketers in the Philadelphia and King of Prussia areas," continued Collins.
Bookstaber will lead a solo panel on August 20 entitled "How to Integrate Affiliate Marketing and PR Strategy." An online marketing strategist with more than a dozen years of affiliate management experience, Bookstaber observes that many companies fail to integrate affiliate marketing with PR efforts. Bookstaber stated, "The best affiliate managers regularly collaborate with SEO and paid search team, but acquisition and branding efforts are often siloed. Our experience at Element Associates shows that integrating affiliate marketing with PR and blogger outreach will increase conversion and brand awareness." In her session, Bookstaber will share why and how to integrate these channels and provide practical takeaways.
As a blogger herself (http://www.mamanista.com) as well as a member of PSMM (Philadelphia Social Media Moms), Debbie Bookstaber has donated many hours training bloggers how to monetize their websites—speaking at conferences such as Type-A Parent as well as smaller regional events. She has found that brands need training on how to work with bloggers as well. "Ask the Experts" is an opportunity for merchants, networks and affiliates to ask hand-picked experts questions about various specialties. Debbie Bookstaber will lead an Ask the Experts Roundtable on August 19th on the topic "Tips for Advertisers on Recruiting and Managing Bloggers." Additionally, Element Associates will be exhibiting at Affiliate Summit. Attendees are invited to make appointments or to visit booth 303.