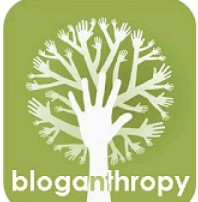 Bloganthropy.org, which recognizes and honors bloggers who use their social media influence to support charitable causes, is announcing the call for nominations for the 2014 Bloganthropy Award.
Bloganthropy.org was founded in 2009 by Debbie Bookstaber and Candace Lindemann of Mamanista.com. Bloganthropy is dedicated to recognizing bloggers who effectively use social media for social good. Those interested in nominating a blogger can visit the Bloganthropy website to apply. The finalists will be selected by the Bloganthropy.org Advisory Board, which consists of 45+ prominent female bloggers active in social good efforts.
Three finalists will receive a ticket to the awards ceremony at Blogger Bash as well as an Award Certificate and will also be featured on Bloganthropy.org. Blogger Bash will be held July 17 and 18 in New York City at Location 05, a swanky, modern space just minutes from Penn Station. Blogger Bash will feature 10 themed parties that will serve as networking opportunities between bloggers and brands.
"We are pleased to host the Bloganthropy Awards at Blogger Bash," says Toy Insider Mom and co-host of Blogger Bash Laurie Schacht. "This event will allow bloggers, press, and brands to establish lasting connections. We hope to increase the reach of the finalists by promoting their projects and connecting them with brands that can further support their causes."
Previous winners of the Bloganthropy awards include Katherine Stone (2010), Susan Niebur (2011), Devan McGuinness (2012) and Denisse Montalvan (2013).
Katherine Stone is the creator of Postpartum Progress, the most widely-read blog about postpartum depression and all other mental illnesses related to pregnancy and childbirth. The blog is a service of the nonprofit organization Postpartum Progress®, which raises awareness, fights stigma and provides peer support to women with maternal mental illness.
Susan Niebur, who chronicled her fight against inflammatory breast cancer and gave hope to millions of women, lost her life to the disease February 6, 2012. She used her blog, Toddler Planet and social networks to raise funds for research, to advocate and to educate women about inflammatory breast cancer.
Devan McGuinness, the mother of three living children and 12 babies lost through miscarriages and stillbirth, started her blog Unspoken Grief as a means of helping other families wade through the challenges associated with perinatal and neonatal loss.
Denisse Montalvan is Chief Inspired Visionary and founder of The Orphaned Earring, a nonprofit dedicated to bringing arts and crafts, school supplies as well as year-round festivities to four orphanages in Latin America, Nicaragua, Colombia, Guatemala and Mexico. By collecting orphaned earrings and unwanted jewelry, The Orphaned Earring re-purposes and recycles the materials by creating bracelets to sell. 100 percent of the proceeds benefit the orphanages and their surrounding communities.
"The winners and finalists for the Bloganthropy Awards are passionate advocates. They are respected by their peers and have made a significant impact in their communities," explains Debbie Bookstaber, co-founder of Bloganthropy.org and president of ElementAssociates.com. "The Bloganthropy Awards enable us to applaud the work of these powerful women and to inspire others to make a difference using social media."
ABOUT BLOGANTHROPY
Bloganthropy.org aims to empower bloggers to become philanthropic leaders in their communities. The annual Bloganthropy Awards recognize those who have made a difference by using social media to effectively promote a cause or charity.For more information about Bloganthropy and the Bloganthropy Blogger of the Year Award, please visit bloganthropy.org
ABOUT BLOGGER BASH
For more information on Blogger Bash please visit http://bloggerbash.com/