Element Associates Founder and President Debbie Bookstaber has been invited to speak at Springboard Conference in Boston.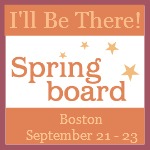 Debbie will be co-leading a panel entitled Affiliate Marketing Tactics and Tips for Bloggers, teaching bloggers to go beyond the banner ad to learn how top affiliate marketers really convert blog traffic into affiliate commissions.
Springboard is an intimate workshop-driven experience. Panels have their time and place in the conference world, but our focus is on skills and skill-building. To make that happen, we think that you typically need one or two experts to get right to the point and TEACH you. Not only that, but we believe that you should also feel like you have accomplished something while you're with us. While you're learning, you'll be checking some items off your to-do list right away. You can expect pre-conference homework, plenty of take-home resources, and the space to focus on the things that are important for your blog. Our sessions are primarily classroom-style workshops with speakers who will give you step-by-step instruction on what to do and how to do it. You'll spend the day focusing on just a few topics of high importance for you rather than bouncing between a lot of sessions.
The conference which will be held at the Boston Convention and Exhibition Center is slated for September 21 – 23, 2012. The 21st is an optional pre-conference, the 22nd is a full conference day with some evening activities, and the 23rd is a photography workshop combined with a bus journey into beautiful Western Massachusetts.
Learn more and register at springboardconference.com.